Town Plans / Views, 1580s-1940s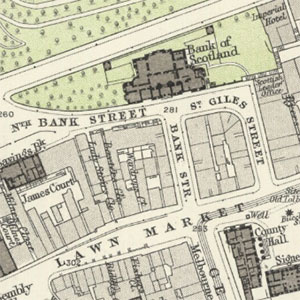 Detailed maps and views of cities, towns and settlements, with a focus on Scotland (but see also Ordnance Survey Town Plans of England and Wales, 1840s-1890s). The earliest surviving Scottish town plans or bird's-eye views - of Edinburgh and St Andrews - date from the 16th century. A further wave of military mapping between 1715 and 1745 is viewable on our Military Maps of Scotland pages. Many Scottish towns were not first mapped until the late 18th or early 19th centuries. The most significant surveyor of Scottish towns (published 1818-1846) was John Wood. 75 towns were mapped for the Great Reform Act (1832), whilst 7 towns were mapped by Charles Goad for Fire Insurance purposes from the 1880s. We also include Stevenson plans of harbours and related infrastructure works in towns and settlements.
See also military maps for some towns in the 18th century, Admiralty charts for harbour towns, and Ordnance Survey maps for towns after 1840.
Select the town you wish to view:
Select the Scottish town you wish to view:
Select the English / Welsh town you wish to view: