Ordnance Survey One-inch, England, Scotland, and Wales, with coloured parishes
Indexes to the Six-inch and 25 Inch Maps, 1894-1904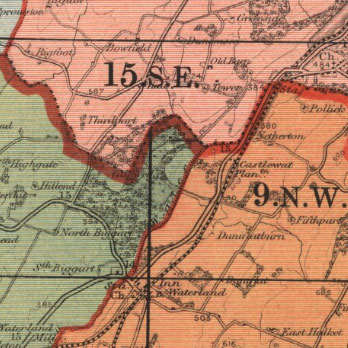 These maps at One-Inch to the mile show civil parishes in colour, as well as sheetlines of the more detailed Six-Inch and 25 inch to the mile County Series maps. The underlying topography was based on a revision of 1894-1904. Further information on this group of maps.
View the One-Inch maps with a graphic index.
View all the index maps with a graphic index.
View table of Survey and revision dates for County Series mapping, 1840s-1940s for Scotland or England and Wales to see which dates of mapping these indexes relate to.
View England and Wales sheets.
Scotland
England and Wales
View sheets:

| Sheet Number and Name | Date of Survey | Date of Revision | Date of Publication |
| --- | --- | --- | --- |
| Sheet 1 - [Norham] | 1859 to 1860 | Revised: 1894 | 1897 |
| Sheet 2 - [Berwick upon Tweed] | 1859 to 1860 | Revised: 1894 | 1897 |
| Sheet 3 - [Ford] | 1859 to 1860 | Revised: 1894 | 1897 |
| Sheet 4 - [Holy Island] | 1860 | Revised: 1894 | 1897 |
| Sheet 5 - [The Cheviot] | 1860 to 1862 | Revised: 1895 | 1897 |
| Sheet 6 - [Alnwick] | 1860 to 1865 | Revised: 1894 | 1897 |
| Sheet 7 - [Kielder Castle] | 1862 | Revised: 1895 | 1897 |
| Sheet 8 - [Elsdon] | 1861 to 1863 | Revised: 1895 | 1897 |
| Sheet 9 - [Rothbury] | 1858 to 1863 | Revised: 1895 | 1897 |
| Sheet 10 - [Newbiggin] | 1858 to 1863 | Revised: 1895 | 1897 |
| Sheet 11 - [Longtown] | 1863 | Revised: 1895 | 1901 |
| Sheet 12 - [Shopford] | 1861 to 1863 | Revised: 1895 | 1901 |
| Sheet 12 - [Shopford] | 1861 to 1863 | Revised: 1895 | 1897 |
| Sheet 13 - [Bellingham] | 1860 to 1863 | Revised: 1895 | 1897 |
| Sheet 14 - [Morpeth] | 1857 to 1863 | Revised: 1895 | 1897 |
| Sheet 15 - [Tynemouth] | 1856 to 1859 | Revised: 1895 | 1897 |
| Sheet 16 - [Silloth] | 1864 | Revised: 1895 | 1901 |
| Sheet 17 - [Carlisle] | 1861 to 1864 | Revised: 1895 | 1902 |
| Sheet 18 - [Brampton] | 1860 to 1864 | Revised: 1895 | 1901 |
| Sheet 18 - [Brampton] | 1860 to 1864 | Revised: 1895 | 1898 |
| Sheet 19 - [Hexham] | 1856 to 1861 | Revised: 1895 | 1899 |
| Sheet 20 - [Newcastle upon Tyne] | 1855 to 1860 | Revised: 1895 | 1898 |
| Sheet 21 - [Sunderland] | 1854 to 1858 | Revised: 1896 | 1898 |
| Sheet 22 - [Maryport] | 1863 to 1864 | Revised: 1895 | 1900 |
| Sheet 23 - [Cockermouth] | 1860 to 1864 | Revised: 1895 | 1899 |
| Sheet 24 - [Penrith] | 1859 to 1861 | Revised: 1895 | 1900 |
| Sheet 25 - [Alston] | 1855 to 1860 | Revised: 1895 | 1897 |
| Sheet 25 - [Alston] | 1855 to 1860 | Revised: 1895 | 1900 |
| Sheet 26 - [Wolsingham] | 1856 to 1857 | Revised: 1895 | 1898 |
| Sheet 27 - [Durham] | 1855 to 1857 | Revised: 1895 | 1898 |
| Sheet 28 - [Whitehaven] | 1860 to 1863 | Revised: 1895 | 1900 |
| Sheet 29 - [Keswick] | 1859 to 1863 | Revised: 1895 | 1900 |
| Sheet 30 - [Appleby] | 1858 to 1860 | Revised: 1895 | 1899 |
| Sheet 30 - [Appleby] | 1858 to 1860 | Revised: 1895 | 1899 |
| Sheet 31 - [Brough under Stainmore] | 1854 to 1859 | Revised: 1895 | 1897 |
| Sheet 32 - [Barnard Castle] | 1854 to 1856 | Revised: 1895 | 1897 |
| Sheet 33 - [Stockton on Tees] | 1853 to 1857 | Revised: 1895 | 1898 |
| Sheet 37 - [Gosforth] | 1860 | Revised: 1895 | 1899 |
| Sheet 38 - [Ambleside] | 1845 to 1861 | Revised: 1895 | 1897 |
| Sheet 39 - [Kendal] | 1845 to 1858 | Revised: 1895 | 1899 |
| Sheet 40 - [Kirkby Stephen] | 1845 to 1858 | Revised: 1895 | 1899 |
| Sheet 47 - [Bootle] | 1859 | Revised: 1896 | 1897 |
| Sheet 48 - [Ulverston] | 1843 to 1859 | Revised: 1896 | 1898 |
| Sheet 49 - [Kirkby Lonsdale] | 1843 to 1857 | Revised: 1896 | 1898 |
| Sheet 85 - [Manchester] | 1871 to 1872 | Revised: 1895 | 1896 |
| Sheet 86 - [Glossop] | 1871 to 1872 | Revised: 1894 | 1896 |
| Sheet 88 - [Doncaster] | 1884 to 1891 | Revised: 1894, Boundaries: 1898 | 1899 |
| Sheet 92 - [South Stack] | 1886 to 1887 | Revised: 1898 | 1900 |
| Sheet 93 - [Holyhead] | 1886 to 1887 | Revised: 1898 | 1900 |
| Sheet 94 - [Beaumaris] | 1871 to 1888 | Revised: 1898 | 1900 |
| Sheet 95 - [Rhyl] | 1870 to 1887 | Revised: 1895 to 1896 | 1900 |
| Sheet 96 - [Liverpool] | 1869 to 1874 | Revised: 1895, Boundaries: 1893 | 1899 |
| Sheet 97 - [Runcorn] | 1872 to 1875 | Revised: 1895, Boundaries: 1898 | 1900 |
| Sheet 98 - [Stockport] | 1870 to 1875 | Revised: 1895 | 1896 |
| Sheet 99 - [Chapel en le Frith] | 1870 to 1879 | Revised: 1894 | 1896 |
| Sheet 100 - [Sheffield] | 1874 to 1885 | Revised: 1894 | 1896 |
| Sheet 101 - [East Retford] | 1875 to 1891 | Revised: 1897 | 1903 |
| Sheet 101 - [East Retford] | 1875 to 1891 | Revised: 1897 | 1900 |
| Sheet 105 - [Carnarvon] | 1886 to 1888 | Revised: 1898 | 1901 |
| Sheet 106 - [Bangor] | 1874 to 1887 | Revised: 1898 | 1901 |
| Sheet 107 - [Denbigh] | 1870 to 1885 | Revised: 1895 | 1900 |
| Sheet 108 - [Flint] | 1869 to 1873 | Revised: 1895, Railways: 1899 | 1900 |
| Sheet 109 - [Chester] | 1871 to 1875 | Revised: 1895 | 1899 |
| Sheet 110 - [Macclesfield] | 1870 to 1877 | Revised: 1895, Boundaries: 1898 | 1899 |
| Sheet 110 - [Macclesfield] | 1870 to 1877 | Revised: 1895 | 1897 |
| Sheet 111 - [Buxton ] | 1870 to 1878 | Revised: 1895, Boundaries: 1898 | 1899 |
| Sheet 112 - [Chesterfield] | 1875 to 1885 | Revised: 1895, Boundaries: 1898 | 1899 |
| Sheet 113 - [Ollerton] | 1876 to 1884 | Revised: 1898 | 1900 |
| Sheet 117.133 - [Bardsey Island] | 1887 to 1888 | Revised: 1898 | 1901 |
| Sheet 118 - [Nevin] | 1887 to 1888 | Revised: 1898 | 1901 |
| Sheet 119 - [Snowdon] | 1874 to 1888 | Revised: 1898 | 1901 |
| Sheet 120 - [Corwen] | 1873 to 1888 | Revised: 1895 | 1901 |
| Sheet 121 - [Wrexham] | 1870 to 1875 | Revised: 1895, Railways: 1901 | 1903 |
| Sheet 121 - [Wrexham] | 1870 to 1875 | Revised: 1895, Railways: 1899 | 1900 |
| Sheet 122 - [Nantwich] | 1871 to 1879 | Revised: 1895, Boundaries: 1898 | 1899 |
| Sheet 122 - [Nantwich] | 1871 to 1879 | Revised: 1895, Boundaries: 1898 | 1903 |
| Sheet 123 - [Stoke upon Trent] | 1872 to 1879 | Revised: 1895, Railways: 1900 | 1901 |
| Sheet 124 - [Ashbourne] | 1876 to 1879 | Revised: 1895, Railways: 1900, Boundaries: 1898 | 1901 |
| Sheet 125 - [Derby] | 1876 to 1882 | Revised: 1895, Railways: 1899, Boundaries: 1898 | 1901 |
| Sheet 126 - [Nottingham] | 1877 to 1887 | Revised: 1898, Railways: 1899 | 1901 |
| Sheet 134 - [Pwllheli] | 1887 to 1888 | Revised: 1898 | 1901 |
| Sheet 135 - [Harlech] | 1886 to 1887 | Revised: 1898 | 1902 |
| Sheet 136 - [Bala] | 1874 to 1887 | Revised: 1898 | 1902 |
| Sheet 137 - [Oswestry] | 1872 to 1885 | Revised: 1895, Boundaries: 1898 | 1902 |
| Sheet 138 - [Wem] | 1872 to 1881 | Revised: 1898, Railways: 1899 | 1903 |
| Sheet 139 - [Stafford] | 1878 to 1881 | Revised: 1898, Railways: 1901 | 1902 |
| Sheet 140 - [Burton Upon Trent] | 1878 to 1882 | Revised: 1895 | 1902 |
| Sheet 141 - [Loughborough] | 1879 to 1883 | Revised: 1895 to 1896, Railways: 1900, Boundaries: 1898 | 1903 |
| Sheet 141 - [Loughborough] | 1879 to 1883 | Revised: 1895 to 1896, Railways: 1900, Boundaries: 1898 | 1902 |
| Sheet 142 - [Melton Mowbray] | 1882 to 1886 | Revised: 1898 | 1902 |
| Sheet 149 - [Barmouth] | 1884 to 1887 | Revised: 1898 | 1902 |
| Sheet 150 - [Dinas-Mawddwy] | 1884 to 1887 | Revised: 1898, Railways: 1901 | 1902 |
| Sheet 151 - [Welshpool] | 1881 to 1885 | Revised: 1898 | 1903 |
| Sheet 152 - [Shrewsbury] | 1880 to 1882 | Revised: 1898 | 1903 |
| Sheet 153 - [Wolverhampton] | 1878 to 1885 | Revised: 1898 | 1903 |
| Sheet 154 - [Lichfield] | 1878 to 1886 | Revised: 1898 | 1904 |
| Sheet 155 - [Atherstone] | 1881 to 1886 | Revised: 1898 | 1903 |
| Sheet 157 - [Stamford] | 1884 to 1887 | Revised: 1898, Railways: 1899 | 1901 |
| Sheet 158 - [Peterborough] | 1884 to 1887 | Revised: 1898 | 1903 |
| Sheet 164 - [Llanidloes] | 1884 to 1888 | Revised: 1897 | 1904 |
| Sheet 165 - [Montgomery] | 1881 to 1888 | Revised: 1898 | 1903 |
| Sheet 166 - [Church Stretton] | 1882 to 1883 | Revised: 1898 | 1904 |
| Sheet 167 - [Dudley] | 1881 to 1883 | Revised: 1898, Railways: 1902 | 1904 |
| Sheet 170 - [Market Harborough] | 1884 to 1886 | Revised: 1897, Railways: 1899 | 1901 |
| Sheet 171 - [Kettering] | 1882 to 1887 | Revised: 1897 | 1901 |
| Sheet 172 - [Ramsey] | 1884 to 1887 | Revised: 1897 | 1903 |
| Sheet 181 - [Ludlow] | 1883 to 1885 | Revised: 1897 | 1904 |
| Sheet 185 - [Northampton] | 1883 to 1885 | Revised: 1897 | 1901 |
| Sheet 186 - [Wellingborough] | 1882 to 1887 | Revised: 1897 | 1902 |
| Sheet 187 - [Huntingdon] | 1881 to 1887 | Revised: 1897 | 1903 |
| Sheet 188 - [Cambridge] | 1880 to 1886 | Revised: 1897 | 1903 |
| Sheet 189 - [Bury St. Edmunds] | 1880 to 1884 | Revised: 1897 | 1903 |
| Sheet 200 - [Stratford on Avon] | 1882 to 1885 | Revised: 1897 | 1903 |
| Sheet 201 - [Banbury] | 1880 to 1885 | Revised: 1893, Railways: 1901, Boundaries: 1898 | 1903 |
| Sheet 202 - [Towcester] | 1880 to 1883 | Revised: 1893, Railways: 1899, Boundaries: 1898 | 1901 |
| Sheet 203 - [Bedford] | 1880 to 1883 | Revised: 1893, Railways: 1899, Boundaries: 1898 | 1902 |
| Sheet 204 - [Biggleswade] | 1876 to 1886 | Revised: 1893, Boundaries: 1898 | 1903 |
| Sheet 204 - [Biggleswade] | 1876 to 1886 | Revised: 1893, Boundaries: 1898 | 1901 |
| Sheet 204 - [Biggleswade] | 1876 to 1886 | Revised: 1893 | 1896 |
| Sheet 205 - [Saffron Walden] | 1875 to 1885 | Revised: 1893 | 1895 |
| Sheet 205 - [Saffron Walden] | 1881 to 1888 | Revised: 1893, Boundaries: 1898 | 1903 |
| Sheet 206 - [Sudbury] | 1875 to 1885 | Revised: 1893 | 1895 |
| Sheet 214 - [Talgarth] | 1878 to 1887 | Revised: 1893 to 1894 | 1903 |
| Sheet 216 - [Tewkesbury] | 1878 to 1887 | Revised: 1896 | 1903 |
| Sheet 217 - [Moreton in Marsh] | 1879 to 1883 | Revised: 1893, Railways: 1901, Boundaries: 1898 | 1903 |
| Sheet 218 - [Chipping Norton] | 1873 to 1885 | Revised: 1893 | 1900 |
| Sheet 219 - [Buckingham] | 1873 to 1882 | Revised: 1893 | 1901 |
| Sheet 220 - [Leighton Buzzard] | 1878 to 1881 | Revised: 1893 | 1901 |
| Sheet 220 - [Leighton Buzzard] | 1878 to 1881 | Revised: 1893 | 1899 |
| Sheet 221 - [Hitchin] | 1876 to 1881 | Revised: 1893, Boundaries: 1898 | 1901 |
| Sheet 221 - [Hitchin] | 1876 to 1881 | Revised: 1893 | 1896 |
| Sheet 222 - [Saffron Waldon] | 1873 to 1878 | Revised: 1893 | 1896 |
| Sheet 223 - [Braintree] | 1873 to 1885 | Revised: 1895 | 1896 |
| Sheet 224 - [Colchester] | 1861 to 1884 | Revised: 1893 | 1896 |
| Sheet 225 - [Felixstow] | 1879 | Revised: 1893 | 1904 |
| Sheet 230 - [Ammanford] | 1875 to 1888 | Revised: 1894 | 1899 |
| Sheet 231 - [Merthyr Tydfil] | 1867 to 1885 | Revised: 1893 to 1894 | 1900 |
| Sheet 232 - [Abergavenny] | 1872 to 1885 | Revised: 1894 | 1902 |
| Sheet 233 - [Monmouth] | 1877 to 1887 | Revised: 1894 | 1902 |
| Sheet 233 - [Monmouth] | 1877 to 1887 | Revised: 1894 | 1903 |
| Sheet 234 - [Gloucester] | 1877 to 1887 | Revised: 1896 | 1903 |
| Sheet 235 - [Cirencester] | 1873 to 1882 | Revised: 1893 | 1902 |
| Sheet 236 - [Oxford] | 1872 to 1880 | Revised: 1893 | 1899 |
| Sheet 237 - [Thame] | 1872 to 1879 | Revised: 1893, Boundaries: 1898 | 1899 |
| Sheet 238 - [Aylesbury] | 1871 to 1879 | Revised: 1893, Boundaries: 1898 | 1900 |
| Sheet 238 - [Aylesbury] | 1871 to 1879 | Revised: 1893 | 1896 |
| Sheet 239 - [Hertford] | 1865 to 1880 | Revised: 1894 | 1896 |
| Sheet 240 - [Epping] | 1869 to 1878 | Revised: 1893 | 1896 |
| Sheet 241 - [Chelmsford] | 1872 to 1875 | Revised: 1893 | 1896 |
| Sheet 242 - [Brightlingsea] | 1872 to 1874 | Revised: 1893 | 1895 |
| Sheet 246 - [Worms Head] | 1877 to 1886 | Revised: 1894 | 1896 |
| Sheet 247 - [Swansea] | 1875 to 1878 | Revised: 1893, Boundaries: 1898 | 1899 |
| Sheet 248 - [Pontypridd] | 1868 to 1875 | Revised: 1893 to 1894, Railways: 1900 | 1900 |
| Sheet 249 - [Newport] | 1873 to 1881 | Revised: 1894, Railways: 1901, Boundaries: 1898 | 1902 |
| Sheet 250 - [Chepstow] | 1878 to 1880 | Revised: 1894, Railways: 1901, Boundaries: 1898 | 1904 |
| Sheet 251 - [Malmesbury] | 1873 to 1884 | Revised: 1896 | 1903 |
| Sheet 251 - [Malmesbury] | 1873 to 1884 | Revised: 1896 | 1900 |
| Sheet 252 - [Swindon] | 1873 to 1884 | Revised: 1893, Boundaries: 1898 | 1903 |
| Sheet 252 - [Swindon] | 1873 to 1884 | Revised: 1893, Boundaries: 1898 | 1901 |
| Sheet 253 - [Abingdon] | 1872 to 1883 | Revised: 1893, Boundaries: 1898 | 1900 |
| Sheet 254 - [Henley on Thames] | 1872 to 1879 | Revised: 1893 | 1895 |
| Sheet 255 - [Beaconsfield] | 1863 to 1876 | Revised: 1893 | 1896 |
| Sheet 256 - [North London] | 1862 to 1871 | Revised: 1893 | 1896 |
| Sheet 257 - [Romford] | 1862 to 1873 | Revised: 1893 | 1896 |
| Sheet 258 - [Shoeburybess] | 1860 to 1873 | Revised: 1893 | 1896 |
| Sheet 259 - [Foulness] | 1872 | Revised: 1894 | 1895 |
| Sheet 261 & 262 - [Bridgend] | 1874 to 1876 | Revised: 1894, Boundaries: 1898 | 1900 |
| Sheet 263 - [Cardiff] | 1874 to 1881 | Revised: 1894, Railways: 1900, Boundaries: 1900 | 1903 |
| Sheet 265 - [Bath] | 1879 to 1885 | Revised: 1896 | 1901 |
| Sheet 265 - [Bath] | 1879 to 1885 | Revised: 1896, Railways: 1903 | 1904 |
| Sheet 266 - [Marlborough] | 1878 to 1884 | Revised: 1896, Railways: 1899 | 1901 |
| Sheet 267 - [Hungerford] | 1872 to 1883 | Revised: 1893 | 1895 |
| Sheet 267 - [Hungerford] | 1872 to 1883 | Revised: 1893, Railways: 1899, Boundaries: 1898 | 1901 |
| Sheet 268 - [Reading] | 1871 to 1876 | Revised: 1893 to 1894 | 1896 |
| Sheet 268 - [Reading] | 1871 to 1876 | Revised: 1893 to 1894 | 1900 |
| Sheet 269 - [Windsor] | 1863 to 1874 | Revised: 1893 | 1896 |
| Sheet 269 - [Windsor] | 1863 to 1874 | Revised: 1893 | 1899 |
| Sheet 270 - [South London] | 1861 to 1871 | Revised: 1893 | 1896 |
| Sheet 271 - [Dartford] | 1861 to 1868 | Revised: 1893 | 1896 |
| Sheet 272 - [Chatham] | 1860 to 1865 | Revised: 1893 | 1896 |
| Sheet 273 - [Faversham] | 1864 to 1872 | Revised: 1893 | 1894 |
| Sheet 274 - [Ramsgate] | 1871 to 1872 | Revised: 1893 | 1895 |
| Sheet 278 - [Minehead] | 1886 to 1888 | Revised: 1897 | 1904 |
| Sheet 279 - [Weston super Mare] | 1883 to 1886 | Revised: 1897, Railways: 1902 | 1904 |
| Sheet 280 - [Wells] | 1882 to 1885 | Revised: 1897, Railways: 1902 | 1904 |
| Sheet 281 - [Frome] | 1882 to 1884 | Revised: 1897, Railways: 1900 | 1901 |
| Sheet 281 - [Frome] | 1882 to 1884 | Revised: 1897, Railways: 1900 | 1904 |
| Sheet 282 - [Devizes] | 1872 to 1884 | Revised: 1896 | 1901 |
| Sheet 283 - [Andover] | 1870 to 1878 | Revised: 1893, Railways: 1899, Boundaries: 1898 | 1901 |
| Sheet 283 - [Andover] | 1870 to 1878 | Revised: 1893 | 1896 |
| Sheet 284 - [Basingstoke] | 1870 to 1872 | Revised: 1893 | 1895 |
| Sheet 285 - [Aldershot] | 1867 to 1871 | Revised: 1893 | 1896 |
| Sheet 286 - [Reigate] | 1866 to 1871 | 1887 to 1893 | 1896 |
| Sheet 287 - [Sevenoaks] | 1865 to 1869 | Revised: 1893 | 1895 |
| Sheet 288 - [Maidstone] | 1864 to 1871 | Revised: 1893 | 1896 |
| Sheet 289 - [Canterbury] | 1865 to 1872 | Revised: 1893 | 1895 |
| Sheet 290 - [Dover] | 1858 to 1872 | Revised: 1893 | 1895 |
| Sheet 297 - [Wincanton] | 1884 to 1885 | Revised: 1897 | 1904 |
| Sheet 297 - [Wincanton] | 1884 to 1885 | Revised: 1897 | 1903 |
| Sheet 298 - [Salisbury] | 1870 to 1884 | Revised: 1897 | 1903 |
| Sheet 299 - [Winchester] | 1865 to 1876 | Revised: 1893 | 1895 |
| Sheet 300 - [Alresford] | 1868 to 1872 | Revised: 1893 | 1895 |
| Sheet 301 - [Haslemere] | 1868 to 1874 | Revised: 1893 | 1896 |
| Sheet 302 - [Horsham] | 1869 to 1875 | Revised: 1893 to 1894 | 1896 |
| Sheet 303 - [Tunbridge Wells] | 1866 to 1874 | Revised: 1893 to 1894 | 1896 |
| Sheet 304 - [Tenterden] | 1868 to 1872 | Revised: 1893 | 1896 |
| Sheet 305 - [Folkestone] | 1870 to 1872 | Revised: 1893 | 1895 |
| Sheet 306 - [Dover A] | 1871 | Revised: 1893 | 1895 |
| Sheet 312 - [Yeovil] | 1884 to 1886 | Revised: 1896 | 1903 |
| Sheet 313 - [Shaftesbury] | 1884 to 1885 | Revised: 1897 | 1902 |
| Sheet 314 - [Ringwood] | 1868 to 1885 | Revised: 1894, Boundaries: 1898 | 1903 |
| Sheet 314 - [Ringwood] | 1868 to 1885 | Revised: 1894 | 1895 |
| Sheet 315 - [Southampton] | 1866 to 1876 | Revised: 1893 | 1895 |
| Sheet 316 - [Fareham] | 1855 to 1873 | Revised: 1893 to 1894 | 1895 |
| Sheet 317 - [Chichester] | 1872 to 1875 | Revised: 1893 to 1894 | 1895 |
| Sheet 318 - [Brighton] | 1872 to 1875 | Revised: 1893 to 1894 | 1895 |
| Sheet 319 - [Lewes] | 1872 to 1874 | Revised: 1894 | 1895 |
| Sheet 320 - [Hastings] | 1871 to 1873 | Revised: 1893, Boundaries: 1898 | 1899 |
| Sheet 321 - [Denge Ness] | 1870 to 1872 | Revised: 1893 | 1895 |
| Sheet 326 - [Sidmouth] | 1886 to 1888 | Revised: 1896, Railways: 1899 | 1903 |
| Sheet 327 - [Bridport] | 1885 to 1887 | Revised: 1896 | 1903 |
| Sheet 328 - [Dorchester] | 1885 to 1886 | Revised: 1896 | 1903 |
| Sheet 329 - [Bournemouth] | 1868 to 1886 | Revised: 1893, Railways: 1897, Boundaries: 1898 | 1902 |
| Sheet 329 - [Bournemouth] | 1868 to 1886 | Revised: 1893 | 1895 |
| Sheet 330 - [Lymington] | 1861 to 1869 | Revised: 1893 | 1895 |
| Sheet 331 - [Portsmouth] | 1856 to 1866 | Revised: 1893 to 1894 | 1895 |
| Sheet 332 - [Bognor] | 1860 to 1875 | Revised: 1894 | 1895 |
| Sheet 333 - [Worthing] | 1872 to 1876 | Revised: 1893 | 1895 |
| Sheet 334 - [Eastbourne] | 1860 to 1874 | Revised: 1894 | 1895 |
| Sheet 341 - [West Fleet] | 1863 to 1887 | Revised: 1896, Boundaries: 1898 | 1903 |
| Sheet 342 - [Weymouth] | 1862 to 1888 | Revised: 1896, Railways: 1903 | 1903 |
| Sheet 343 - [Swanage] | 1886 | Revised: 1895, Boundaries: 1898 | 1903 |
| Sheet 344 - [Chale] | 1861 to 1862 | Revised: 1893 | 1895 |
| Sheet 345 - [Ventnor] | 1860 to 1862 | Revised: 1893 | 1895 |